Up to 300,000 dental implants are placed every year by dentists according to the American Association of Oral and Maxillofacial Surgeons, making it one of the most common procedures in dentistry today. So why are dental implants so important and preferred over other tooth replacement options? Find out the answer in advance of your next appointment with a dentist at Kenneth Woo, DDS and Associates in Gaithersburg and Kensington, MD.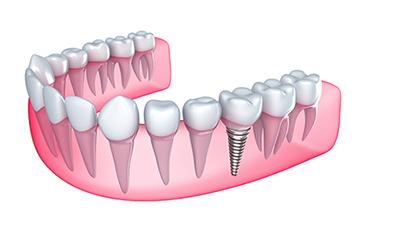 About Dental Implants
Dental implants have been available since 1965, but they have become very popular in the past couple of decades. Now patients have an alternative to uncomfortable dentures and other temporary tooth replacements. Implants are surgically added to an open tooth socket and allowed time to "osseointegrate" with bone tissue. Once healed, the implant will become the root of your new tooth and securely support a crown.
Why Are They Important?
Tooth implants are important because they allow you to preserve the health of your gums and your overall dental health. A newly rooted "tooth" will keep your gum tissue healthy and viable. You will also chew better and digest your food more thoroughly with a permanent replacement tooth. Finally, with an implant and crown, the gaps in your teeth are closed so that you don't have to hide your smile from the world anymore.
Implants vs Other Solutions
Many people still think that their only option for tooth replacement is a partial or full denture that can be removed. Dental implants installed by a Gaithersburg and Kensington dentist are an enduring solution to your problem. Dentures must be replaced or refitted after about five years, whereas a dental implant could last 20 years or longer with good dental hygiene.
A New Smile with Implants
It's never too late to renew your smile with the modern dental technologies that are available at Kenneth Woo, DDS and Associates in Gaithersburg and Kensington, MD, including dental implants. Call (240) 683-3833 or (301) 933-1833 today for an appointment to see Dr. Kenneth Woo, Dr. Edmond Woo or Dr. Ho Kai Wang.