Have you been considering getting dental implants, but aren't sure if they're the right option for you? Dr. Kenneth Woo, Dr. Edmond Woo and Dr. Ho Kai Wang, your Gaithersburg, MD dentists, answer a few commonly asked questions about dental implants.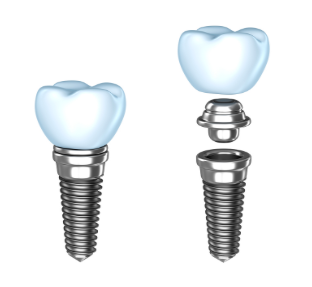 What are dental implants?
A dental implant offers an innovative way to replace your entire tooth, not just the portion visible above the gum line. The titanium implant is placed in your jaw and gradually fuses to the bone, replacing tooth roots. The bonding process generally takes about three to six months. Once it's complete, your Gaithersburg dentist connects a dental crown to the top of the implant.
Am I a good candidate for dental implants?
Dental implants are a good choice if you've lost one or more teeth and are looking for a long-lasting replacement option. Because implants become part of your jaw, you'll probably never need to replace them if you care for them properly. You can take advantage of dental implants if you're in good health and have healthy gum tissue and good jawbone depth. If your jawbone isn't deep enough to support implants, your dentist may recommend a bone graft to strengthen it. Smokers tend to experience less success with the dental implant process because smoking can cause infections and lengthen healing time.
What are the benefits of implants?
Losing a tooth affects your jawbone as much as it impacts your appearance. Your teeth roots constantly place pressure on your jawbone and help keep it strong. When you lose a tooth, the jawbone underneath may become shallower and weaker. If jawbone weakening is significant, you may even eventually lose other teeth as a result.
Implants feel more natural than dentures or bridges. Since your crown is connected directly to the implant, you won't have to worry about gum irritation caused by rubbing and will be able to continue to eat your favorite foods.
Dental implants offer an excellent way to replace missing teeth! Call Dr. Kenneth Woo, Dr. Edmond Woo and Dr. Ho Kai Wang, your Gaithersburg, MD dentists, at (240) 683-3833 to make an appointment. Restore your smile with implants.