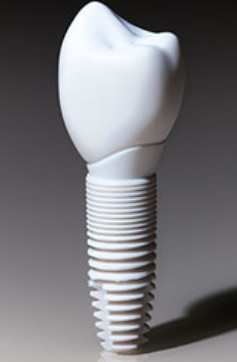 How Do I Know if Dental Implants Are Right For Me? Why Dental Implants Are the Perfect Choice.
If you are missing one tooth or several teeth, and you are tired of looking at the spaces in your mouth, it's time to do something about it. It's time to think about dental implants, and make an appointment with the expert, Dr. Kenneth Woo, your family dentist in Gaithersburg, Maryland.
Dental implants are widely considered by dentists to be the best choice for replacing missing teeth, because they are the most similar to your natural teeth. Implants also have a nearly 95% success rate because they are "biocompatible" with your tissue. Your body won't reject them. In fact, implants help to keep you from losing bone in your jaws, and help to maintain the youthful contours of your face.




When you lose teeth, you have a few options, including:
Not replacing the teeth, this will leave a space and could interfere with chewing
Partials you can remove, which may or may not fit correctly
Dentures, which may also have fit problems or be uncomfortable
Bridges, which require treatment for the teeth on either side of the bridge
Implants, which are the closest to having your natural teeth
Implants are made of titanium and resemble a screw. This screw is placed into your jawbone, and functions as the missing "root" of your tooth. A beautiful porcelain crown is then placed over the implant, creating a strong, completely natural-looking replacement for your missing tooth.
Implants are a perfect choice for you because:
They look better, just like your natural teeth
You can speak better with implants because they stay in place
You can eat better because they are strong and permanent
They are more comfortable and durable than other replacement options

If you want to say yes to implants, or just want to find out more information, stop in and visit Dr.Kenneth Woo, your implant expert in Gaithersburg, Maryland. Do it today, and get back your smile!