Dental implants, offered by your dentists, Drs. Kenneth Woo, Ho Kai Wang, and Edmond Woo in Gaithersburg and Kensington, MD, offer an innovative way to replace missing teeth. If you've been considering restoration options, you'll want to take a look at these four important implant benefits!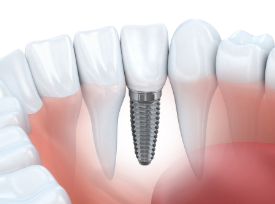 1. Implants feel like natural teeth
Bridges and dentures restore the visible parts of missing teeth, but even though they look like real teeth, they may not feel very real. Biting power can be reduced when you have one of these restorations and irritation to the gums can occur, particularly if the restorations don't fit well.
When you replace your missing tooth with a dental implant, your new tooth will feel like the one you lost. In fact, it will be rooted in your jawbone just like a natural tooth.
Placed into the jawbone by the dentists at our offices in Gaithersburg and Kensington, MD, dental implants are small titanium posts that act as synthetic tooth roots. In just a few months, implants bonds to the bone, creating a stable root for the dental crown that will be attached to the top of the implant. The dental crown replaces the part of your tooth visible above the gums.
2. Dental implants may save you money
Most people only think about immediate costs when considering tooth restoration options. Although dental implants may be a little more expensive initially, they can certainly save you money over your lifetime!
Bridges and dentures must be replaced every 10 to 15 years or so, while healthy implants may never need to be replaced over an entire lifetime! Although you'll need new dental crowns periodically due to wear-and-tear, the cost to replace a crown is much less than what you'll pay for new crowns and bridges.
3. Implants keep your jawbone strong
Jawbone resorption (shrinking) can occur after tooth loss because the bone is no longer stimulated by tooth roots. This problem can lead to the loss of other teeth and facial sagging. Conversely, dental implants constantly stimulate the jawbone and prevent resorption.
4. Dental implants offer an excellent alternative to removable full dentures
Dental implants aren't just for single missing teeth—they are are also a good choice if you've lost multiple, even all of, your teeth. Implant-supported dentures are attached to a metal framework or directly to implants. These dentures improve comfort and biting power, and never slip or slide when you bite!
Interested? Give us a call!
Fill the gaps in your smile with dental implants! Call your dentists, Drs. Kenneth Woo, Ho Kai Wang, and Edmond Woo, today by dialing (240) 683-3833 for Gaithersburg, and (301) 933-1833 for Kensington.